Free Downloadable Guide: Sustainability & Business Education
A note from Poets&Qaunts Editor-In-Chief, John A. Byrne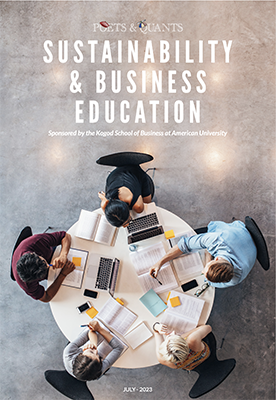 For prospective students, who care deeply about
the environment, there are more options than ever
before to prepare for a career with positive impact.
After all, today the fastest-growing segment of
the economy is directly linked to combating the climate
crisis.
Climate change may well become the defining
theme for tomorrow's business leaders. According
to LinkedIn's Global Green Skills Report 2022, green
jobs grew by more than a third from 2015 to 2021,
from 9.6 percent to 13.3 percent, and renewable and
environmental jobs grew by a staggering 237 percent
over the last five years.
American University's Kogod's Master's Degree In S
ustainability Management is the school's fastest-
growing program, with applications up 100 percent
year over year. And business school deans, from
Columbia Business School in New York to INSEAD
in France, have made climate change a top strategic
priority.
At Stanford Graduate School of Business, MBA
students are publishing a newsletter aptly named The
Gigaton to quantify, in actual gigatons, the impact
emerging solutions have on the climate. Their target
audience? Talented young professionals looking for
careers with impact.
Our hope is that this free guide provides a glimpse
at the role business schools can play in training and
educating a new generation of leaders who want to
dedicate their lives to the opportunities and challenges
our world now faces.