Our Multi-Industry Trek Has Moved Online

NOTICE: In light of gathering restrictions in place due to the viral pandemic and public safety, the Poets&Quants preMBA Networking Festival will be changed from an in-person event to a virtual event. CHECK BACK FOR MORE INFORMATION. Or, email us!
Important Info About The Format Change:
Event participants will meet with companies in a series of sessions across various industries. Some companies may opt for one-on-ones, while others will hold panel presentations, or small group meet & greets.
A networking room will be available throughout the day to enable you to engage with sponsors and other attendees.
The live event will take place on Friday, May 8th. Participants may also have extended access to recorded sessions over the weekend.
The event pricing has changed and we'll be opening up the registration process for the virtual event to new admits for $50. We will issue full or partial refunds to those who have registered and paid accordingly.
Poets&Quants is offering waivers for this event to participants in need. Please email us if you'd like your attendance sponsored by P&Q. For those able to pay, know that your participant fee is helping to support independent journalism in business and business education. We appreciate your support.
After FOUR successful years of hosting this multi-industry trek, we're providing this unique opportunity exclusively to newly admitted MBA students from leading business schools. If you are starting your MBA program in the fall of 2020 and are looking to forge important connections, become more savvy about your MBA career options, and get a head start on your MBA pivot, do not miss the Poets&Quants preMBA Networking Festival!
Welcoming Premiere Corporate Sponsor for 2020

WHY ATTEND?
"The preMBA P&Q festival exposed me to executives in fascinating roles that I didn't even know existed. It was a fantastic event to learn about multiple companies and industries and connect with the right people before school even starts."
-Diego, Michigan Ross 2021 MBA Candidate & 2019 preMBA Festival Attendee
Early access. Attendees of the Poets&Quants preMBA Networking Festival are the first in their cohort to meet and network with executives and recruiters from the world's largest MBA employers. This is an opportunity to not only learn how to, but to make real connections with recruiters before they reach campus in the fall.
Expand your personal network. The preMBA Networking Festival isn't just about meeting executives and recruiters. It's about connecting with your peers and weaving together contacts and friendships with new admits from all over the world, some of whom may be attending your program in the fall! Regardless of where you've come from, you'll meet someone with similar obstacles and experiences along the MBA journey: transitioning from career to MBA, military to MBA, or the challenges and opportunities unique to being a woman or underrepresented minority or international student pursing an MBA.
Engage your networking muscles. This isn't about asking for a job. This event is about making real connections. To do that over a short interaction, you'll have to learn how to network like a pro. Before the event even begins, accepted attendees will receive a guide covering more than just networking essentials and will attend a live webinar with tips on how to get the most out of the event. Beginning Thursday night, attendees will be practicing and refining their personal elevator pitch and will have the opportunity to try it out on executives and partners over both festival days.
REGISTRATION DETAILS
Prospective attendees must submit a current resume and acceptance letter as part of the application process. Although early registrations may be processed without an acceptance letter, event attendance is contingent upon providing proof of admission to a full-time, top MBA program by May 4th.
COST

Cost to attend the virtual networking festival is $50.
Poets&Quants is offering waivers for this event to participants in need. Please email us if you'd like your attendance sponsored by P&Q. For those able to pay, know that your participant fee is helping to support independent journalism in business and business education. We appreciate your support.
Admission includes all online festivities including sponsor & presenter sessions, panel discussions, and inclusion in the early-access resume book provided to sponsors before the event.
Questions about the event? Email P&Q's general manager, Heather Soderquist.
Questions about sponship? Email our publisher, Sat Sharma.
Read about the preMBA Networking festival from a prior year attendee HERE.
Summary of the Event (2019)
May 9th
– Welcome kick-off held at NYU's Stern School of Business.
What's it like to work in consulting, finance, tech, and CPG/industrial? How should you prepare for your MBA career in each industry?
Attendees heard executives from leading MBA employers, Microsoft, J.P. Morgan, McKinsey & Company, and L'Oréal in the pre-festival panel discussion. Entertainment and a laugh provided by comedian and Tuck grad
Paul Ollinger
.
May 10th – Festival Day in New York City! Attendees visited their choice of 16 companies in their New York executive offices over four major MBA career tracks: consulting, finance, technology, and CPG/industrial. Sessions gave participants a feel for the companies, their cultures and people in their choice of four one-hour sessions and one, two-hour lunch session.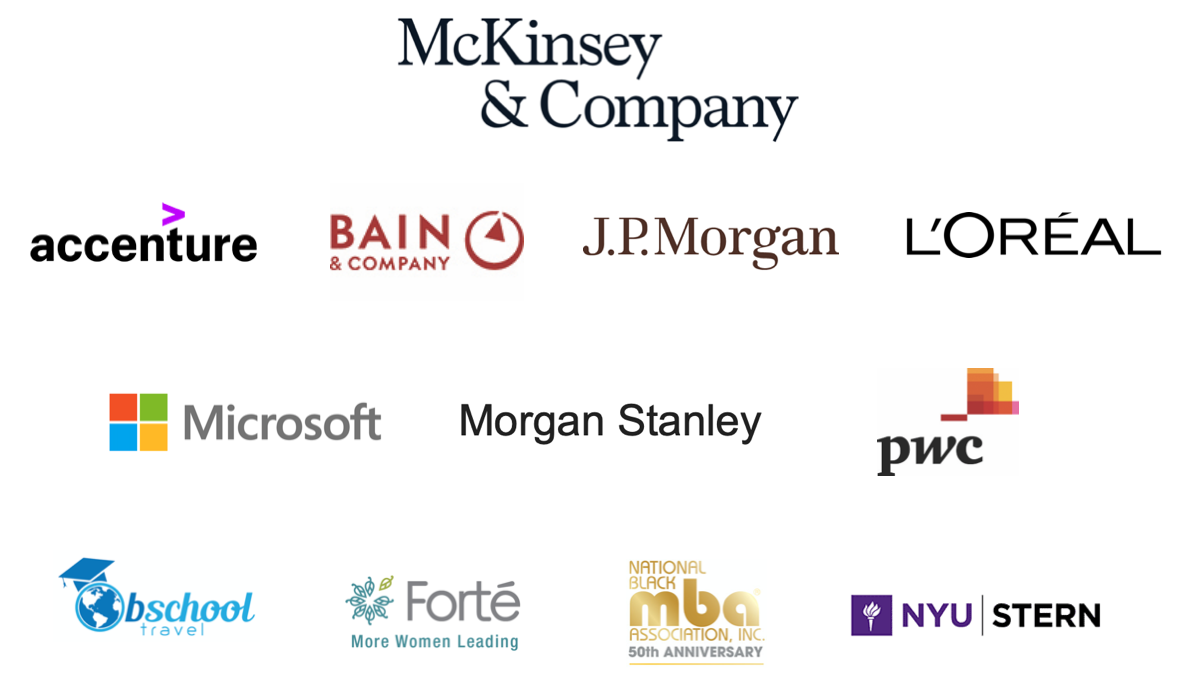 Sponsor Webinars
What does McKinsey &Company Look For In MBA Hires?
PwC Culture & MBA Career Path
Festival Recap
"The energy and enthusiasm at the event is incredibly inspiring which makes you even more excited for the fall. On top of that, it is a fantastic opportunity to meet with your future classmates across different schools, to make early connections with potential employers and learn about them, and to test your pitch/story in a completely risk-free environment. I highly recommend this event to all incoming MBA candidates – GO for it!"
-Mukul, Cornell Johnson School of Business